LONGBOW NEWS
---
We Are Back
Apologies to all our customers whilst our webpage has been offline. Whilst Lesley helped set up the business in 2012, she soon returned to her education career and so the day to day running of the business along with the manufacturing of bows, arrows and leatherwork, bow stands and other items is down to me.
Busy manufacturing to order, I hadn't taken the website down for updating since starting up so it was due a review. Time seems so limited. Sorry for the inconvenience but look forward to catching up with many of our regular customers shortly. Marc
---
Herefordshire Live
We recently featured on the Herefordshire Live website. If you'd like to read this most informative article please follow this link.
We are also delighted to showcase some of the images from this article in the slide-show on the Home Page.
---
The Longbow Girl - Award Winning Novel
A good friend of mine and terrific author, Linda Davies has created a rollicking young adult novel called 'Longbow Girl'. Check it out at http://www.longbowgirl.com/.

"Merry Owen is desperate for her family to stay on their struggling farm in Wales, in the shadow of the Black Castle, owned by the de Courcys who have been enemies of Merry's family for generations. Skilled in the family tradition of archery, Merry is happiest when out riding - but when she finds an overturned tree and a buried chest containing an ancient Welsh text, it leads her into a past filled with treasure, secrets and untold danger"

A great read written by someone who understands the longbow. Available from September. Find more about Linda Davies at www.lindadavies.com
---
2017 EAF 'All England' Longbow Champs
The EAF English and Open National Longbow Championship 2017 will take place at Sherwood Archers ground on Saturday 15 July 2017. Please go to the EAF website for details and results of previous Championships: http://www.englisharcheryfederation.org/longbow/
---
NEW
Longbow Emporium Parallel Pile Compression Tool. See the arrow making page for details.
---
Check Out Our Flickr Gallery
See our new collection of images of beautiful Bows, Arrows & Leatherwork made for our customers by visiting our new Gallery Page.
---
We Are Busy - Sorry for any Delays!
Marc Grady our Master Bowyer, fletcher and leatherworker is extremely busy with customer orders at the moment and apologises for any delays.
All our workshop items are unique and made to customer requirements and so can take a bit of time particularly if we are busy. Clothing, arrow making components and general accessories will generally be dispatched within a day of receiving the order - stocks permitting.
---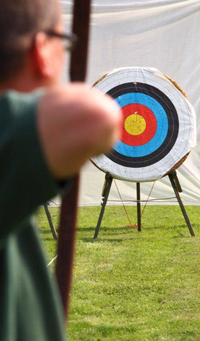 Try Archery with a Traditional Longbow
Join a Master Bowyer for this wonderful opportunity to taste the excitement of traditional archery in the magnificent setting of Broadfield Court in Herefordshire http://www.broadfieldcourt.co.uk/
Experiences are available at £25 per person per hour, with a maximum of four people participating in one session.
Please ring to check available dates and times.
For bookings or further enquiries contact The Longbow Emporium on;
tel: 01568 797890 / 07918 081725
Or,
enquiries@longbowemporium.co.uk
Experience Gift Vouchers available for the perfect present.